I have been exploring some sites, and stumbled across.....the SAG awards! So...you get another fashion post like my Golden Globes one! :) Here we go....
Here's Miss January Jones sporting a Prabal Gurung gown. For the dress, I give her....3/10. Her neck looks much too restrained in this gown, almost as if she's wearing a neck brace. The draping around the hips calls attention to them, which is not terribly flattering. And, it looks as if it cinches around her neck!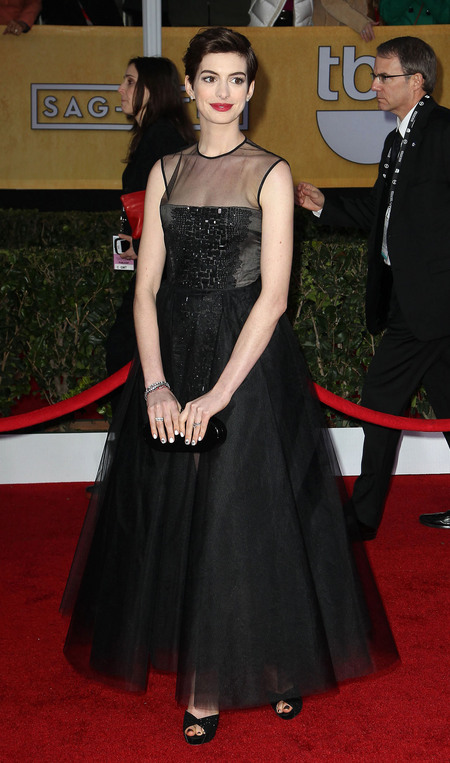 Anne Hathaway wearing a Giambattista Vali gown...poor dear! The sheer top is not attractive, neither are the sequins...the whole gown makes her look slightly wide through the middle. And the deflated black layers of tulle at the bottom? Almost looks like a Halloween decoration gone wrong. 2/10 here.
Michelle Dockery in a Chado Ralph Rucci dress. Oh...dear. The slits at the top are not attractive, and even though black is (supposedly) a slimming color, this makes her middle look frumpy. And...I thought snake bracelets were SO out of style. 3/10 for her.
Claire Danes in a Givenchy gown. Two words. UG. LY. Off the shoulder draping is never flattering, and with the extra fabric hanging off the arm, it looks like she put the sleeve on wrong. And the geometric pattern down the bottom? Ick! 1/10.
If I had to wear this, I would be frowning too. I think this Valentino gown should be called...."Shower Curtain Chic."The ruffles on the side make her figure look wider than it is, and the colors do not match. The sleeves that stick out on the sides at the top are just TOO much. 1/10. Poor Rose Byrne.
Oh no! Jane Lynch's gown makes me shudder. The faux leather with studs is horrific. This gown accentuates every bit of her middle aged-ness. 1/10. (If a 0 were possible, it would be give.)
Lea Michele's Pepto-Bismol pink dress is not...horrible like the past 6 gowns! The pink ruffle at the bottom is actually kind of cute! Also, it is not a hip-hugging, curve-baring, fat-showing dress. The flare after the waist is a nice change. This earns her a 5/10.
Sigourney Weaver in a black satin apron gown. This hiked up dress with the apron ruffles at the top is...well...terrifying with a capital "T"! She is a....solidly built woman at 63, and this dress definitely shows that. 1/10!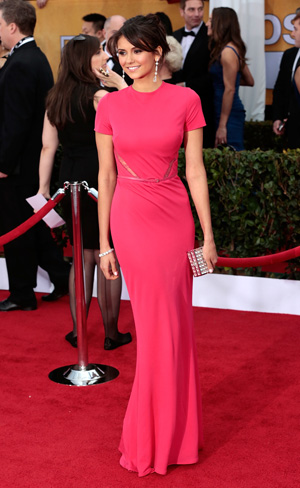 Nina Dobrev's pink crepe gown is not bad! The T-shirt top is entirely modest except for the slits in the front. I could go without those. The slender drape of the dress is elegant and feminine. That color is also good on her! 7/10!
Freida Pinto is showing a "Pepto Princess" gown here. Sunglasses anyone? 1/10.
Kiernan Shipka....may I borrow your dress? This totally vintage cute dress is perfect for her age. I am glad to see she went with a modest, age appropriate gown. She looks 13, not 27! Many young stars are made up to look too old...Light pink is a good accent blend with her pale, rosy skin! 9/10!
Oh dear...Julianna Margulies. Color block black and white. Why is there a random leg sticking out? Eesh. 2/10.
Sally Field looks good for her age. And this wisteria pleated gown? Awesome...just wish it came with a camisole up top! 5/10.
Mayim Bialik in an electric blue lace gown. What a pretty dress! It is a little snug on the hips, but I like the soft drape after the thighs. That belt adds a touch of country to it also! 7/10 for her.
There you have it!
Our Best Dressed Award goes to....Kiernan Shipka! :)
And the Worst Dressed Award goes to.......Freida Pinto, Sigourney Weaver, Jane Lynch,Rose Byrne, and Claire Danes!
See you next time with our "Celebrity Magnifique, and Celebrity Horrif-ique!"