I've seen so many pictures of Princess Kate, and I think I've fallen in love with her outfits. They are modest, clean, and vintage!
This coat dress is so chic! Add brown tights and suede ankle boots, and it's even better! She looks stunning in brown.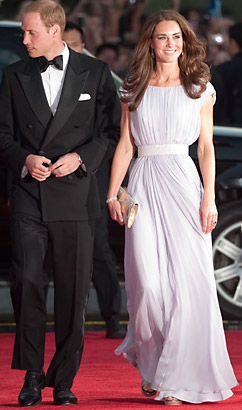 This dress is gorgeous. It has feminine pleats and a belted waist! The fluttery skirt is so beautiful, as is the boatneck top. And her hubby is looking nice!
Vintage vintage vintage! This army button style three-quarter sleeve dress is adorable. The dusty grey pumps are a wonderful touch, as is the hat. As for her husband...no idea what he's wearing!!
This sunny yellow dress is bee-yoo-tiful. The puffed sleeves, the collar, the oversized buttons! Ah, it is a breezy spring beauty.
This three-quarter peplum red dress is gorgeous. (as always! The pleated skirt does not make her look prep school either! And the dramatic hat could NOT be pulled off in America. But England? Totally.
A beautiful smile, a beautiful dress! I love the dainty grey tie around the waist and the subtly pleated skirt is lovely. I love the speckled grey dress with the inky black pumps.
Wow. This is a lot like what I picture my wedding dress looking like! I love lace sleeves, but I would want the lace to not start until the arms for full modesty. And, I would choose a higher neckline. She looks like a princess (haha!). I love the lace overlay on the skirt and the intricate details on the bodice.
Princess Kate definitely has a good sense of fashion! Can't wait to see the little royal baby coming soon!