You had to know I was doing the Oscars, right? Totally wouldn't miss it! :) I've decided to do something extra special. Today, I present to you the hair and makeup of the Oscars. Saturday, I present to you the accessories of the Oscars. And lastly, on Sunday, I will give you the grand finale....the dresses! :) Excited? I hope so! Here goes.................
Jennifer Lawrence! The poor actress took a fall on stage, walking up to accept her Oscar! However, she still looked beautiful. Her makeup is nice and natural, and her smoky eyes stun. As for her hair, I love it! I love her brown hair with subtle highlights. And that twist she put it up in? Totally looks sophisticated! Love it!!
Reese Witherspoon! Her beautiful golden locks are softly curled, and fall gracefully around her shoulders. Her makeup is a lot like Jennifer Lawrence's, with the natural foundation and blush, and darker eyes. Good job, Reese!
Ginnifer Goodwin...if any of you have ever seen Once Upon A Time, you know how beautiful she is! She can rock a soft pixie cut, and looks magnifique with just a touch of light makeup. This is much different. It makes her look so severe and overdone. The fake eyelashes, the black eyeliner, the too thickly penciled in eyebrows.....I know how beautiful she can be. Perhaps she should have gone with something a bit lighter and more natural. And her hair looks more like a man cut then a pixie cut. My brother just said, "She looks like she could join a boy band! Maybe One Direction!"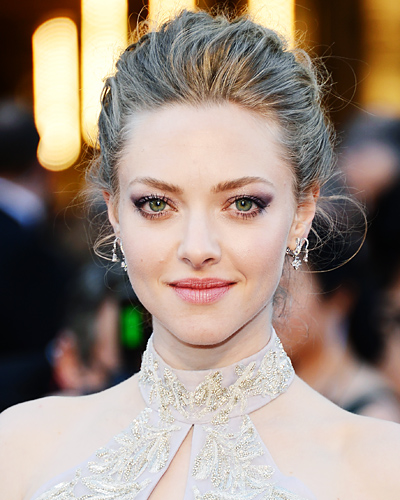 Amanda Seyfried. Beautiful. Up is a good way to style her hair! It adds a level of sophistication. Her makeup accentuated her green eyes well, and made them POP! Light pink lipstick and natural eyeshadow is beautiful on her pale skin.
If anyone can pull off big hair, it's Adele. Her blonde hair was pulled half up, with the just bangs remaining. It was softly curled at the ends, and the tops was backcombed to form a bouffant style. I'm not wild about the severe black fake eyelashes. It makes her eyes look too cat-like. However, the light lipstick works well on her.
Amy Adams! She is one of those naturally beautiful people! Her hair was styled in a fancy French twist updo, which was nice with her red hair. Her blue-grey eyes stood out. I see a bit of neutral eyeshadow on her eyelid, and the pale rosy lipstick is beautiful on her white skin.
Anne Hathaway's pixie cut is growing out! I like the sideswept hair across her forehead. I detect just a bit of light pink eyeshadow on her lids, and the medium pink lipstick accentuates her trademark smile! Her warm brown eyes stand out on her pale skin. Another natural beauty!
Helena Bonham Carter's hair makes me think of Madame Thenardier! Hmm...;) Her makeup is very nice, but the rat's nest on top of the head never works. And, I REALLY want to get some bobby pins and pin up those strays.
Samantha Barks is a stunning dark beauty. Her light pink and brown eyeshadow blends with her skin tone, and the very natural lips are nice. They could have used a little color, though. However, the bedhead look never works for anyone. Perhaps a few bobby pins and a headband might fix that....
Jane Fonda...her eyes and lips and cheeks are nicely done with light makeup, but the feathery nest sitting atop her head? Hm. I wonder how much hairspray that took...Not my favorite look of the night.
There you have the first installment of the Oscars! Tomorrow or on Saturday, I will be doing Part 2, the accessories part! And, I may or may not have a special guest blogger with me.... :)
Stay tuned! What was your favorite look of the night? Least favorite?
Au Revoir!