Hello everyone! I know I said that I would do a fashion post yesterday, but I ended up coming down with the flu....Here I am, recuperating, and I have been gathering pictures and names and have put together a Golden Globes Fashion Show! I have included best dressed, honorable mentions, and....others. ;) To start things off, here is the first picture!
For Miss Adele wearing Burberry here, I would give her a 5/10. I like the simplicity of the black dress, and the flowy style of the skirt, however, it needed a pop of color. If she had come with a dramatic red clutch to match those nails of her, it would have completed the outfit! However, I respect her modesty with this dress.
Here is Rachel Weisz, wearing a black Louis Vuitton dress. There have been many mixed reviews of this, most leaning toward hating it. I, however, like it. It's cute, vintage, and the polka dots are adorable. However, it looks a little long, as it is dragging on the floor...I just wish the black part of the dress was longer. Therefore, this dress gets an 7/10.
Here is Anne Hathaway, wearing a Chanel two piece white dress. For this piece, I give her a 4/10. The white dress is a little boring, but I like the texture of the fabric. Also, it seems to be a fitting dress because of her portrayal of Fantine. One thing that earns this outfit more points is her hair. I was upset when Anne cut off all her beautiful hair, and for a while, I was not a fan of the manly style. But here, the pixie cut emerges, and I like it a lot on Anne.
Amanda Seyfried=Cosette. Seriously. Y'all should go see Les Miserables! But I digress...She is pictured here wearing a Givenchy dress. I love the lace detail at the bottom that slightly flares out. The soft drape of the dress accentuates her slim figure. Her hair is delicately curled and soft. If only this outfit had maybe a shimmery pink lipstick to go along...I give this dress an 8/10.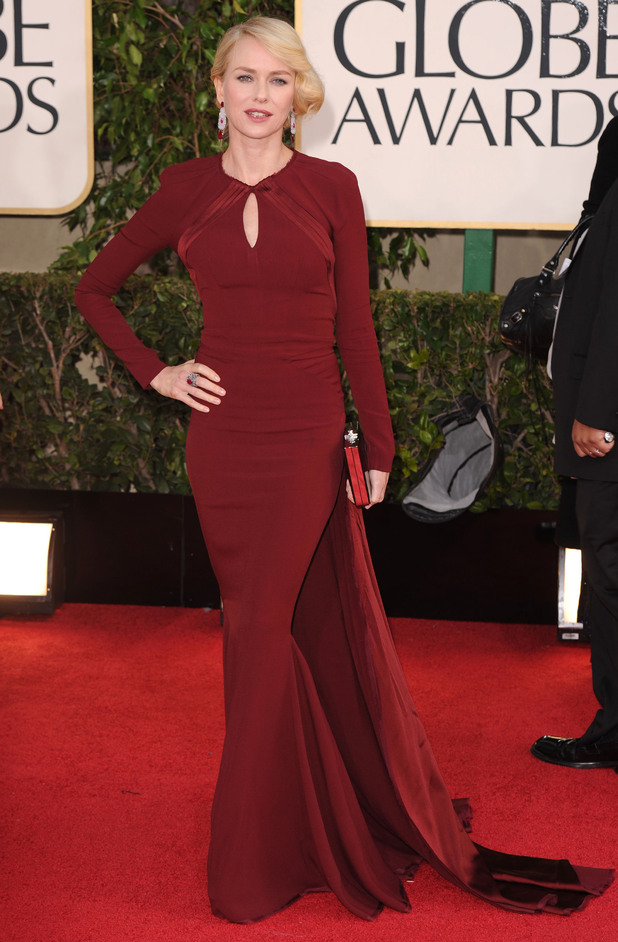 Here is Naomi Watts wearing a rich dark red Zac Posen dress...I like the simple, flattering curve of the dress. However, the clutch does not seem to entirely match the outfit. It appears as if it is a different color than the dress. And the hair, well, shall we say, is it sticking out the side of her head? Also, I am confused about the side of her dress at the bottom right of the picture. It looks like she is wearing a cape, just on the bottom half of the dress! This dress gets a 4/10. However, as with Adele, I commend her for her modesty.
Nicole Richie here wearing a Naheem Khan dress. It is a pale aqua lace embroidered dress. At first glance, I wasn't sure if I liked the dress or not. It looks like the designer went a little heavy on the jewels. And, oh my, how much fringe is that hanging off her clutch? Also, the clutch is not the best color it could've been...The eye makeup was also a little much for me. As my great-grandmother would say, she is "two holes burnt in a blanket!" :) I give this outfit a 3/10.
Wow. Here is Taylor Swift rocking a Donna Karan Atelier dress. It's a sating eggplant mermaid dress, that makes her look wonderful. Also, what a stunning color! She is not often seen wearing purple, but this is a sensational color on her. Way to go Taylor! Am I biased? Maybe, but this really is a great dress. The flare at the bottom is very dramatic, and I love Taylor's makeup and hair and jewelry here. It's great. For this outfit, I give it a 10/10.
And the winners are................................................
1st Place: Taylor Swift (10) in a Donna Karan Atelier dress.
2nd Place: Amanda Seyfried (8) in a Givenchy dress.
3rd Place: Rachel Weisz (7) in a Louis Vuitton dress.
4th Place: Adele (5) in a Burberry dress.
5th Place: Anne Hathaway (4) in a Chanel dress.
5th Place tie: Naomi Watts (4) in a Zac Posen dress.
6th place: Nicole Riche (3) in a Naheem Khan dress.
Our honorable mentions whose pictures I wouldn't post because of modesty issues are:
1st Place: Zooey Deschanel in an Oscar de la Renta dress
2nd Place: Sally Field in an Alberta Ferretti dress
And now.....the ones you've been waiting for! The...er...not so well dressed that would either get 0 or negative points in reviewing! ;)
Jodie Foster, the human disco ball in a blue Armani dress. Hmm...is that a frisbee she's holding as a purse?
Oh dear, Miss Lucy Liu in a Caroline Herrera dress....I sure hope she didn't steal that fabric off her grandmother's couch....
I will not post the full picture of Lena Dunham's Zac Posen dress because of modesty issues, but it was not the best. It hung off the shoulders oddly, and of course, on one arm, there was a large tattoo. Most unattractive! It also looked as if there was no makeup or a hairbrush involved!
Alyssa Milano sporting a...bright dress here (I could not find the designer). Well, it is an interesting color all by itself, very.....as I said....bright. The shape of the empire waist belt is not the most flattering, and oh, my, are those aqua earrings? Oh dear, they are...
There you have it everyone! The fashion of the Golden Globes! What do you think about these outfits? What would your vote be for best fashion and worst fashion?