This is the last Grammy post, and then I will do a review on style evolution of specific people! Please leave a comment with suggestions of people I should do.
Oh look, it's Miss Sassy Plastic Wrap! (a.k.a. Miley Cyrus) This dress looks like it's made out of either a grocery bag, a Ziploc bag, or cling wrap. Two words. UG. LY! Her hair was gorgeous though. Why would you want to cut off your beautiful locks and dip them in a bucket of bleach?
Oh wow. The fluffy blue part of this skirt is gorgeous! But the silver part...?? is very much lacking. Beyonce tried to go for a "fierce" look here, but I think she just spoiled the femininity. The uneven tube top is very odd.
Alicia Keys' Grammy dress is a beautiful midnight blue. It is modest, and very feminine. The wide strap halter top is pretty, and so is the side stripe ruching is slimming. The clutch looks like a glasses case!! Or a small pink football.
Ohmygoodnessohmygoodnessohmygoodness!! I love this dress on Taylor!! The blue is SUCH a beautiful color on her. I love the almost corset style top and the jeweled, draped skirt. And oh, her hair! So gorgeous.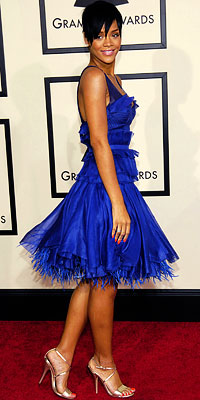 Rihanna chose a knee length electric blue dress. This color is gorgeous with her dark skin. I'm not too wild about the fringe hanging around the knees. I think it would have looked better if it had been a ruffle layer. Haha! I just looked at her hair and the color of the dress and couldn't help but think "Sonic the Hedgehog!" ;)
Well, that's all for now! Let me know in the comments what people I should review! :)
Voyez-vous demain, des lecteurs !