Sorry I have not been keeping up with this blog! Summer has gotten very busy....I've been cooking, cleaning, and doing some fashion designing! Here we are for the 2009 Grammys post. :)
Black looks good on Miley Cyrus's bronzed skin! However, the two fabrics don't flow well together. It's flattering at the hips, but then the different fabric starts and it becomes unflattering. The dramatic flower is a fun embellishment.
Black, white, and grey can be a beautiful combination together if done right. This is not one of those outfits. It's a crooked color block outfit, and it just doesn't mesh. There's no flow to the dress whatsoever. There's really no shape to it either! Jennifer Hudson just couldn't pull this one off. And blue pumps? They seem to be a mismatching last-minute accessory.
Kim Kardashian is modeling a pale gown that makes her look like a cupcake! But not in a cutesy fun way. I don't know what the deal is about large thighs and short dresses. Even if I didn't wear below the knee dresses for modesty's sake, I would want to conceal my thighs! The flounces and ruffles are not flattering.
Kathy Griffin stuns in a royal blue gown. This is a simply beautiful piece, and a wonderful color accent to her hair and skin. The simple ruching that leads to the thin belt is attractive and feminine.
Sara Bareilles looks sweet in a rosy pink. Red and pink are not my favorite combination, but this somehow works. She could have incorporated red more and included a red shawl or bolero. I like the rose ruffles on the skirt.
Carrie Underwood is in a flowing gown with a sparkly gold overlay and a simple gold satin underlay. She looks like a princess in gold, but the top is a bit gaudy in the front.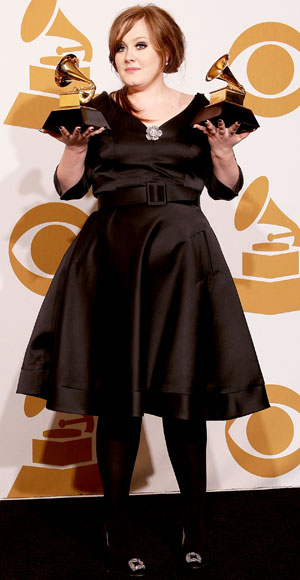 I swear all her Grammy dresses look the same! Miss Adele has definitely lost weight since 2009, and I commend her for that. I'm thinking maybe the black tights were not a great idea. This knee length dress makes her look like she's going into mourning, and the tights complete that.
Gack! This buttered popcorn yellow dress is
horrifique
!
Cette robe n'est pas belle du tout. Les bijoux horribles sur l'épaule m'incitent à frissonner, et elle ressemble à quelque chose qu'un vieux de cinq ans pourrait avoir cousue.
I propose a challenge for all of you! The first person who translates this French correctly (you can use a translator site) and comments back to me what it says will get to pick what kind of a fashion post I do next. You may name a person who you would like me to review fashion on, or an awards ceremony, or just a specific type of fashion in general!
Happy summer!