I'm thinking about going back and doing Grammy fashion through the years! What do you think? I'll do five years, I believe, and then I'll do a sixth post of how specific people's fashion has changed! :) Did any of you check out
www.christianfilmcentral.com
? What'd you think? :)
And now....for the Grammys 2012!
Katy Perry, what's up with your blue hair? This dress is not flattering. The color is pretty, but I just can't get over the fact that it matches her hair. ;) I really like the length of the sleeves on this, and the delicate beading, but the dress is not my favorite.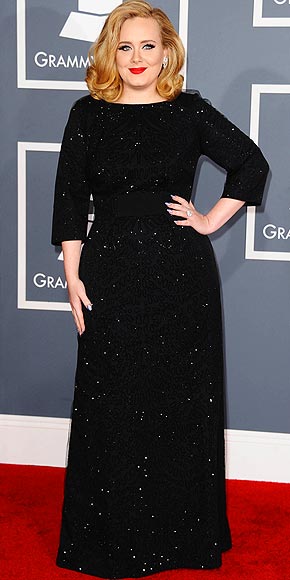 Adele is ALWAYS wearing black! Well, other than the 2013 Grammys....it's just a little too sparkly for my tastes. I think it would be sophisticated without the sparkles and if it had a dash of red.
I...I....I....I can't even express my feelings about this dress. Perhaps, "WHAT'S THAT??" is the best way to say it. This is a horrible outfit...
Haha! Carrie Underwood's dress kind of looks like bird poop! (no offense!) It's white.....under all that speckled stuff! The clutch is cute, though. And, the dress is modest. It's not terrible, but it's not my absolute favorite. It's very feminine and elegant, though.
Kimberly Perry is going to a funeral! Oh, she's not? Hmm. Every time I see black tulle on a dress, I just don't think it's attractive. It looks like a funeral shroud. Thankfully, sparkles help brighten up this dress, as does the bow. Love the black hoop earrings!
Ack! Corinne Bailey Rae needs to cut the ruffles! Seriously!! It's like an over the top party dress but in black...ick!
Oh look! It's Deanna Carter in a hospital green shower curtain! Not my fave color, not my fave design.
Well, have a great week everyone! :)