Hi guys, I am so sorry that it's been...forever. :P I've been busy keeping up with regular school, online classes, and my new theatre group! Also, last week I found out that my grandma died, so we flew out to Michigan for the funeral. It's just kind of been a crazy month.
I'm sitting in the airport right now (and have been for three and a half hours) so I figured, what better thing to do than write a blog post! I also wanted to give you a little update on my book...It's coming along at 60 pages, and 27,000 words. I cannot believe what is happening with this book! I think I will actually turn it into something. Also, I've finally given it a title! Anybody care to guess? It is three words long...
Here are the scrambled letters. (in no particular order)
PINERINKPIP
First one to answer correctly gets...air hugs and kisses. ;)
Well, should we look at some fall fashion? I love when I get to change out my sandals for my favorite boots, and switch my tanktops to cardigans.
Let's go over the top five must-haves of the 2013 fall season.
1. Cardigans! These easy sweaters button up or zip up. They are a little lighter than an actual sweater, and can dress up an outfit, or simply provide some fashionable warmth.
This cardigan can be found at your local Target for about 14.99. I love the brand, Mossimo Supply Co.!
2. Knee-length boots! They are perfect to tuck your skinny jeans into, or to wear with a dress and leggings. I recently outgrew my old ones, so it's time for a new pair! I found these (below) at Kohl's. I haven't bought them yet because they're about $50, so I'm waiting for them to go on sale. ;)
3. Skinny jeans! (but not too skinny!) I have recently discovered skinny jeans. For one, I wear them because they are the only kind of jeans that actually fit me. But two, I really like how they fit into boots. I buy mine so that they are still a little loose-fitting in the legs. I don't like them if they are tight anywhere on the legs, because that means they are too tight for me.
4. Colorful tanks! We have to have something to layer under our cardigans, right? Plus, we can even tuck the into our pants underneath our cardigan to ensure full modesty of the backside. :)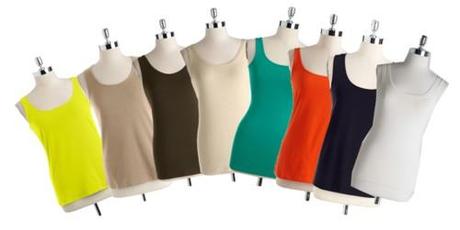 5. Jewelry! Whether you want to add a chunky bracelet, a delicate necklace, or some dangling earrings, jewelry is a wonderful accessory to winter clothing. We tend to dress just for warmth, and end up looking like an unfashionable snowman! ;) Jewelry helps add a little trendy sparkle to lighten up the outfit.
What are your top five fall trends? I'll be doing another "Top 5 Trends" post here very soon!
Au revoir!