Hello all! Well, I somehow managed to not write a
single
post over Christmas Break...ugh! ;) But now, I am back in full force with fashion blogs ready to post!
We must start off with our 2014 Golden Globes fashion. (New system: *** these are stars...1 is bad, 10 of them means it was awesome!)
Here we have Michelle Dockery, looking gorgeous as always. However, I am not a huge fan of her dress. The jewel encrusted everything is a bit overwhelming and the color is not the best on her. She, however, look a-maze as always. I love the slight high-low of her dress. *** (3 stars)
When I first looked at Emma Watson's dress, I loved it. I saw the front, and I loved the simplicity of it. Then I saw the back of it. She is wearing a dress/pant hybrid, which is not my favorite look. I think that the simple and classy look of the dress was ruined by the black leggings peeking out of the back. *** (3 stars)
Ah.....Caitlin Fitzgerald is in a sky blue ensemble. I think I would like this dress better if the top was a v-neck or round neck....the collared style makes it appear boxy, and the dress does not
flow
very well. It is rather choppy and structured. The pleated high-low is certainly something new, and she is gorgeous in that color. **** (4 stars)
Drew Barrymore's "Valentine" dress is...well, over the top. The expecting mother chose to wear a gauzy gown bedecked with red and pink petals. I am still stuck in the old ways of thinking that red and pink do not match...so, this isn't a big hit with me. It is not the most flattering, and I think that the petals everywhere are just very overwhelming. ** (2 stars)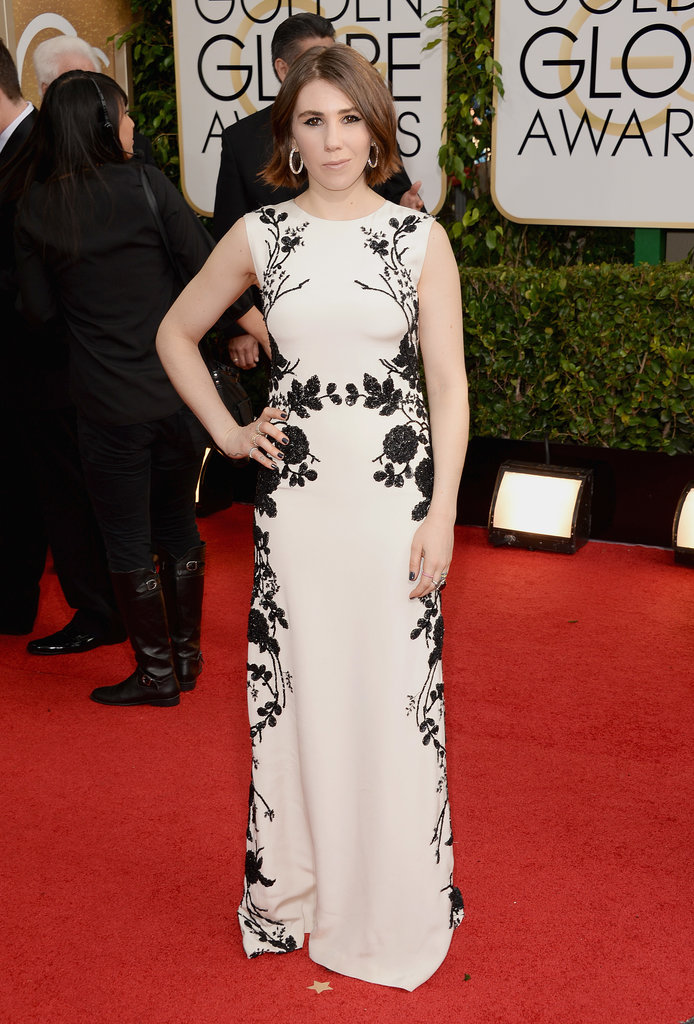 Zosia Mamet stuns in a classic black and white gown. I love the simple white dress with the elegant black details. It really is gorgeous and clean. I love the modesty of it as well. ********* (9 stars)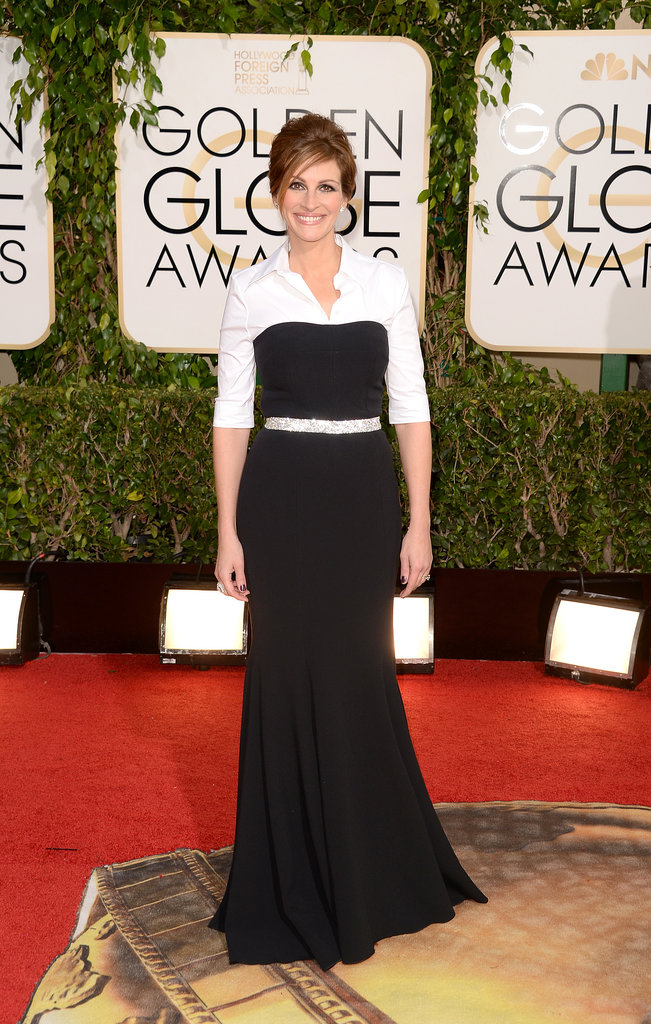 AAH! I
love
Julia Robert's dress! This is just so classic and elegant. The collared shirt is just an elegant touch and I love the sparkly belt to break up the heavy blackness of the dress. What I love about this is the fact that Julia (age 46) did not try to pull of something that a 20 year old star would wear. She was not trying to show too much skin and go modern. She kept it classic and stylish with this ensemble and I love it! ********** (10 stars!!)
Well, this concludes part 1...stay tuned for the recap of the Golden Globes-Part 2 !
Je t'adore!